Mandible "Ether/Ore" CD Release Party A Resounding Success
Satuday May 19 was the official release date of "Ether/Ore", an EP from rockers Mandible, and it was celebrated with a festive show at Mother McCree's, followed by a huge-ass party at Mandible's house, featuring beer, mohawks(!?), and fireworks. There was much drunken debauchery. Anyone who wants a CD, click the link below to email Jason. CDs are $3.
Magic Johnson Ride Plays First Live Show
Magic Johnson Ride, aka John Albrecht, played his first live show ever Saturday May 27 at Mother McCree's. Due to another band's (Super*Bike) cancellation, John offered to fill in, and promptly threw a show together. Because of the short notice, the only people in attendance were friends of Millard Fillmore, but it made a good practice show for MJR, who now plans on future live shows.


Karakul CD Coming Soon
Karakul CD is almost ready, and it is being released by DarkRealm Multimedia. Some of you may recognize Karakul as Michael of Mandible, but his primary band is Nothing Inside out of Atlanta GA. For more information on Karakul and NI, visit the following site:
Millard Fillmore Christens New Practice Space
Mandible, Damitol, and The Fuckin' Sissies have a cavernous new practice space in which to make noise. Most relieved among the Millard Fillmore family is Tiffanie, since she gets her living room back. In addition, MF now has large PA with a 16 channel console to rehearse and record our consumer music products. The location is currently top secret in order to frustrate our enemies.
More Upcoming Recordings!
As winter fades into spring, look for a slew of Millard Fillmore CDs bursting forth like a seedling towards the sunshine, only to be eaten by a hungry rabbit. New music from Mandible, Damitol,plus debuts from The Fuckin' Sissies, Karakul, and others. This is a fertile time for Millard Fillmore, so you should be proud to know who we are. Keep checking this site for more information about everything MF.

Show Listing:
June 29: MANDIBLE w/ MAGIC JOHNSON RIDE @ Mother McCree's, West Columbia SC.

August 4: Multi-band fest at Gambrell Hall. All day event, with catered food, art, and films. Band lineup to include Mandible, erectorset, Rockefeller Horsecollar, Robot vs. Rabbit, Kevin Greene, and more.

August 24: DAMITOL @ The Lazy I, Myrtle Beach, SC.

Millard Fillmore would like to thank Chuck and Lisa Marie Medes for their contributions to the Columbia music scene. They started Mother McCree's out of a love of music and food, not the desire to make a buck. This was apparent to all who had the pleasure of playing there. We thank them, and we hope they get back into the music venue business soon.
Need a demo for your band, fool?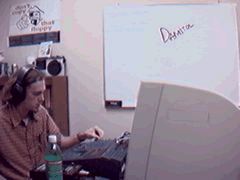 "Hey, I have a band too, but we can't get shows because we don't have a CD, and we can't afford a recording studio. What do we do?" You email John, because he went to college to be an audio engineer, he has the equipment, and he will record you a CD, CHEAP! Click below: