Magic Johnson Ride: Rage Against the Answering Machine

John from Damitol has a digital sampler, and he can do strange and wonderful things with it. This CD consists of recordings done over the past three years, mostly electronic, mostly noisy, with a smattering of guitars here and there. $5.00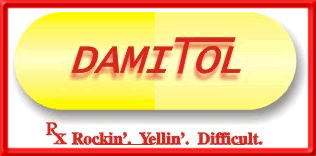 Damitol, Limited CD
Catchy melodies, wankadelic guitars, pure pop/rock/metal. This is a new recording featuring some of the original songs, some new. The first self titled Damitol CD (with the guy swinging the hammer on the cover) is now out of print. This one is better, and cheaper. $3
Meat Whistle Anthology CD
Mike, Spencer, John, and Jason started out as Meat Whistle way back in 1997. They recorded a lot of stuff but only played one show. Now you too can here the roots of what is now Millard Fillmore, as soon as John finishes mixing the damn thing. Coming soon....
Meat Whistle Home Video
Live at New Brookland Tavern, December 23, 1998. 30 minutes of improvisation, featuring future members of Mandible and Damitol. Bonus music video included. US$8.00 VHS/NTSC format.
Coming Soon:
More CD releases from MFR artists, including Karakul, Zenathsmatic, Pilesar, and a Mandible remix disc by John Albrecht. Also live videos of Damitol and Mandible. We'll make sure you have enough product selections, worthy consumer.